Mission and Accomplishments
Inetnon Gefpå'go Mission Statement
To provide a platform for inspiration, possibility and greatness in Chamorro Performance Arts.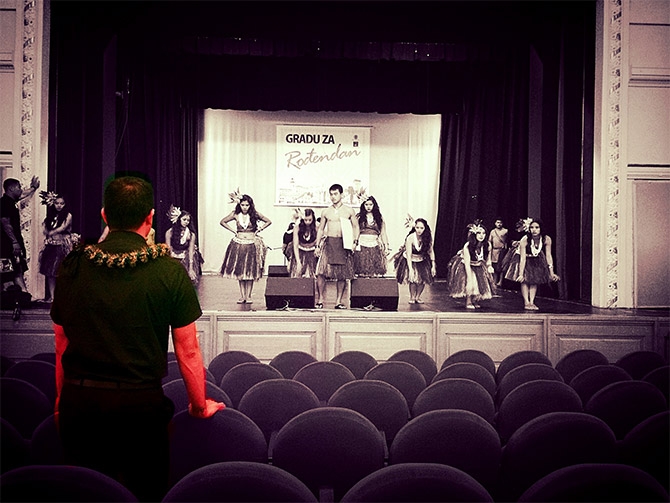 Dancers Creed:
We are the new voice of IG. Always remembering where we came from and humbly united to stand tall for our people, our island, our culture and our IG Family
Mission and Program Biography
Inetnon Gefpå'go is an award-winning program whose mission is to promote awareness and pride in Chamorro heritage through performance arts. Membership in the group begins at Southern High School, George Washington High School and the University of Guam where students undergo extensive training to be members of the schools performing group. Selected students will then continue to represent Guam at major on island events and folk festivals around the world.
Countries Performed
New Zealand, Australia, Brazil, Bulgaria, United States (Hawaii, Washington D.C., San Diego, Arizona), Japan, Korea, Macau, France, Netherlands, Switzerland, Slovenia, Croatia, Italy, Russia, Turkey, Romania, American Samoa, Taiwan, Fiji, Philippines, China, Palau, Hong Kong, Commonwealth of Northern Mariana Islands (CNMI)
Accomplishments
2018
Cheonan International Dance Festival,
South Korea
Guam Island Music Awards
Winner - Best Cultural Dance Group
Nominee - Best Original Song for "End of the Day"
3rd Annual Guam International Dance Festival featuring Argentina, Mexico, Costa Rica, Philippines and Finland
2017
International Folklore Festival - Sofia, Bulgaria

"Festival Vitoshi"
Special Guest Participant
V. Reyes, Jury
International Folklore Festival - Istanbul, Turkey

"Buyukcekmece Cultural Arts Festival"
Special Guest Participant
3rd Place Best Dancer Category
V. Reyes, Jury
International Folklore Festival - Manila, Philippines

"Fiesta Folkloriada"
1st Annual Sen Guaiya Hao Guahan Youth Conference
Guam Island Music Awards
Winner, Best Cultural Dance Group
Nominee, Best Original Song
2016
INTERNATIONAL FOLKLORE FESTIVAL, Passo Fundo, Brazil
INTERNATIONAL FOLKLORE FESTIVAL, Guapore, Brazil
Island Music Awards Best Cultural Dance Group
Festival of Pacific Arts, Guam

Cultural Exchange with New Zealand, Cook Islands, Australia, Taiwan, Fiji
Opening Act for Closing Ceremonies
Fashion Show (Show Director V.Reyes)

Rerelease of Classic Love song "Hagu" with Flora Baza Quan
Brazil Tour Send Off Show and Release of "Hagu" Music Video
Outrigger Guam Resort - Inetnon Pupuengi Cultural Show - Guam's only Full-Chamorro Show in the heart of Tumon, Guam.
2nd Annual International Folkdance Festival, Guam - Organizer
2015
1st Annual International Folkdance Festival, Guam - Organizer
3rd Place 16tn h International Buyukcekmece World Folkdance Competition, ISTANBUL, TURKEY
4th Place Festival Carpati World Folkdance Competition Pitesti, Romania
2014
Guam Council of Arts and Humanities Agency (CAHA)
Master of Chamorro Dance Official Appointment – Vince Reyes
National Folkdance Director Official Appointment – Vince Reyes
Magpro Governors Award of Excellence Award
Merit Cup of Excellence Overall Employee of the Year – Vince Reyes
Guam Island Music Awards
Best Cultural Dance Group
Southern High School
Theatrical Production of Taifinakpo: A Southern High School Musical
University of Guam
Theatrical Production of Pagat
Contemporary Expressions of Chamorro Dance Course Established – Vince Reyes
International Folklore Festival,
Maribor, Slovenia
"Festival Lent"
Participant
International Folklore Festival,
Šibenik, Croatia
"Šibenik Children's Festival"
Participant
International Folklore Festival,
Poreč, Croatia
"Festival Lent"
Participant
International Folklore Festival,
Karlovac, Croatia
"Medunarodni Festival Folklora"
Participant
International Folklore Festival,
Martigues, France
"Festival de Martigues"
Participant
15th International Buyukcekmece Culture and Art Festival, Istanbul, Turkey
Jury (Judge) – Vince Reyes
Cheonan World Folk Dance Festival, Cheonan City, South Korea
Jury (Judge) – Vince Reyes
Federation of International Dance Festivals (FIDAF)
Local Chairperson of Oceania - Vince Reyes
2013
3rd Annual Chamorro Cultural Festival
Guam Visitors Bureau
Golden Latte Award
Vince Reyes
Winner, Individual
14th International Buyukcekmece Culture and Art Festival
Jury (Judge) – Vince Reyes
Istanbul, Turkey
International Folklore Festival
"Cheonan World Folk Dance Festival"
Special Guest Performance
2nd Place – Best Dancer Category
Jury (Judge) – Vince Reyes
Cheonan City, South Korea
International Folklore Festival
"Indonesian World Folk Dance Festival"
Jury (Judge) – Vince Reyes
Jakarta, Indonesia
International Folklore Festival
"Fiesta Folkloriada
Participant,


Manila, Philippines
2012
University of Guam 9th Annual Chamorro Language Competition
2nd Place Middle School - Lalai (Chant)
Philippines World Travel Fair
Most Popular Performance Award
2nd Annual Chamorro Cultural Festival
Guam Department of Education
Author Traditional Arts Curriculum – Middle School, Vince Reyes
International Folklore Festival
"Festival Folklorique International Du Rouergue"
Participant,


Rodez, France
International Folklore Festival
"International Folklore Festival of Fribourg"
Participant,


Fribourg, Switzerland
International Folklore Festival
"The Festival of the World Folklores"
Participant,


Haguenau, France
Cheonan World Folkdance Competition
Jury (Judge) – Vince Reyes
Federation of International Dance Festivals (FIDAF)
Local Chairperson of Oceania - Vince Reyes
2011
Philippines World Travel Fair, Pasay City
Most Popular Performance Award
Korea World Travel Fair (KOTFA)
Best Folklore Performance
Cheonan World Folk Dance Competition
2010
Philippines World Travel Fair
Most Popular Performance Award
Korea World Travel Fair (KOTFA)
Best Folklore Performance
International Folklore Festival
"International Foloristisch Dancefestival"
Participant,


Bolsward, Netherlands
International Folklore Festival
"Folkloristische Dansgroep Festival"
Participant,


Hellendoorn, Netherlands
International Folklore Festival
"OpRoakeldais 45th International Dansfestival"
Participant,


Warffum, Netherlands
International Folklore Festival
"International Folkloristisch Dansfestival"
Participant,


Zelhem, Netherlands
International Folklore Festival
"Couleurs du Monde"
Participant,


Toulon, France
2009
Dinana Minagof Chamorro Cultural Dance Competition
Overall Winner
Best in Contemporary
1st Place Division C (High school and Older)
Mas Geftao Instructor Award: Vince Reyes
University of Guam 6th Annual Chamorro Language Competition
1st Place Middle School - Lalai (Chant)
Guam Visitor's Bureau
Excellence in Tourism Award - Hafa Adai Spirit Award: Inetnon Pupuengi


Chamorro Cultural Dinner Show, Sheraton Laguna Guam Resort
Guam Humanities Council Black Grace - Guam Tour
Tour Partner and Participant
Korea World Travel Fair (KOTFA)
Best Folklore Performance


Seoul Korea
International Organization of Folk Art (IOV)
Secretariat, Oceania Region Nominee – Vince Reyes
2008
International Festival
"The Sacrings of the Folklore"
Participant,


REIMS, in France
International Folklore Festival
"Op Roakeldais"
Participant,


Warffum, Netherlands
Salland International Folklore Festival
Participant,


Raalte, Netherlands
Landal International Folklore Festival
Participant,


Putten, Netherlands
Festival of the Pacific Arts
Participant,


American Samoa
International Organization of Folk Art (IOV)
World Youth Congress
Presenter / Panelist - Vince Reyes

IOV World Youth Commission on Preserving Intangible Cultural Heritage
Oceania Representative,
Vince Reyes
2007
Korea World Travel Fair (KOTFA)
Best Folklore Performance


Seoul Korea
Dinana Minagof Cultural Dance Competition
Best Ancient - Middle School
Sheraton Laguna Guam Resort
Inetnon Pupuengi Dinner Show - Guam First Full Chamorro Cultural Dinner Show
2006
Dinana Minagof Cultural Dance Competition
1ST Place High School Division
Overall Best Contemporary
Guam Humanities Council
Program of the Year - Nominee
Guam Visitor's Bureau
Excellence in Tourism Award - Hafa Adai Spirit
Korea World Travel Fair (KOTFA), Seoul Korea
Best Folklore Performance
CAHA
Flame Tree Festival Delegation
Participant,


CNMI, Saipan
2005
Dinana Minagof Cultural Dance Competition
1st place Ancient - Middle school
2004
Dinana Minagof Cultural Dance Competition overall winners
1st Place Ancient - Middle school
Overall Best Spanish
Guam Humanities Council
Traditional Teacher of the Year
Vince Reyes
2002
Dinana Minagof Cultural Dance Competition overall winners
1st place Ancient - Middle school
2nd place Contemporary - Middle school
3rd place Spanish - Middle school